Prestigious
Lazaridis Auditorium
Wilfrid Laurier University, Waterloo, Ontario, Canada
64 University Ave W, Waterloo, ON N2L 3C7
Venue of the 41st World Religions Conference

Lazaridis Auditorium Hall is the newest building on Wilfrid Laurier University's Waterloo Campus. The $103.7 million building is LEED Gold Certified and has earned numerous awards and international recognition. Thanks to the atrium's tremendous glass dome roof, the interior spaces of Lazaridis Hall are filled with natural light that bounces off the beautiful wooden features to create a warm and inviting space.

The twin cities of Kitchener-Waterloo are located less than one hour west of Toronto -- Canada's largest city -- and a couple of hours from the American cities of Detroit and Buffalo via highway 401. 
World Religions Conference Complementary Parking Arrangement
Sunday, November 26, 2023
Parking Lot 32 is the most convenient parking lot, which will be free for conference attendees at Wilfrid Laurier University.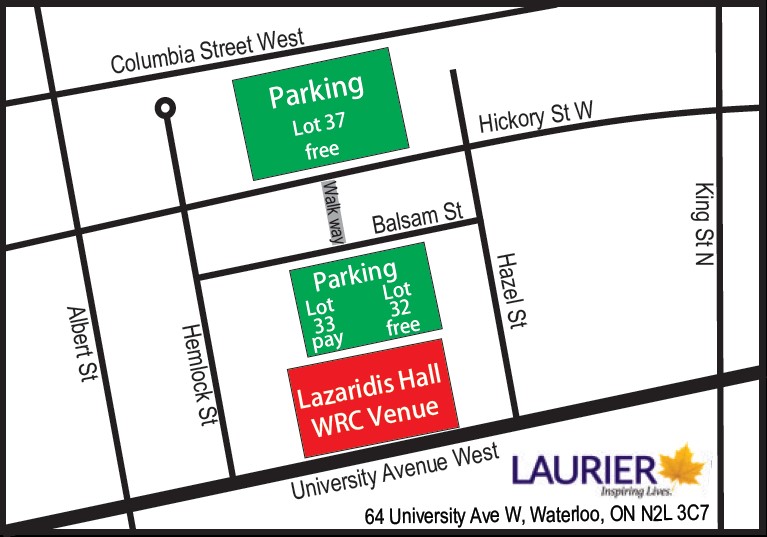 To attend the World Religions Conference on Sunday November 26, 2023 afternoon, there is free parking for any of the gold and white permit parking lots on campus. The most convenient ones would be lot 32 or Lot 37 that are behind Lazaridis Auditorium (off of Balsam St or Hickory St W).
You may also park anywhere on Laurier campus on any gold and white permit parking lots with the exception noted below. 
Please note that Parking lots 4, 12, 20 & 33 on Wilfrid Laurier University in Waterloo not free are pay-and-display.
Parking at St. Michael's Roman Catholic Church: You may also park at the St. Michael's Church parking that is adjacent to the Lazaridis Auditorium Parking. St. Michael's Church is located at 80 University Avenue.
 About Lazaridis Auditorium, Wilfrid Laurier University:
Lazaridis Hall was the only Canadian building in 2018 to be recognized with the Civic Trust Award, an international recognition that aims to encourage the very best in architecture and environmental design; improve the built environment through design, sustainability, inclusiveness and accessibility; and reward projects that offer a positive cultural, social, economic or environmental benefit to their local communities.