Presided and Moderated by:
Angela Vieth (City of Waterloo Councillor)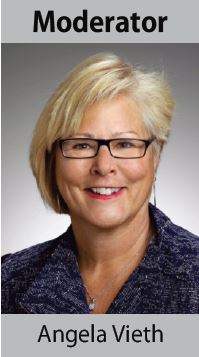 Multifarious and compassionate, Angela is currently serving her fourth term on Waterloo City Council and Has served on numerous committees in her capacity as Councillor. She owns a small business called Your KW Host which provides custom, relocation tours. Angela and her husband John are members of St Jerome's Catholic Community, the Jazz Room and enjoy KW Symphony concerts as well as spending time with grandchildren.
Councillor Angela Vieth has graciously agreed to moderate the 39th World Religions Conference on the theme, "How to Establish a Just Society" scheduled for Sunday, September 22 2019 at the Humanities Theatre, University of Waterloo.
---