For Immediate Release: Press and Media
Experiencing God in Today's World
38th World Religions Conference
September 16, 2018 – University of Waterloo
Scholars of 9 faiths and philosophies and nearly 700 delegates including officialdoms from academia, local, provincial and national governments as well as associates of various faith organizations are expected to flock to the Humanities Theatre for Canada's Largest & Longest running Multi-Faith event – the 38th World Religions Conference (WRC), taking place on Sunday, September 16, 2018 from 12:30 pm to 6:00 pm.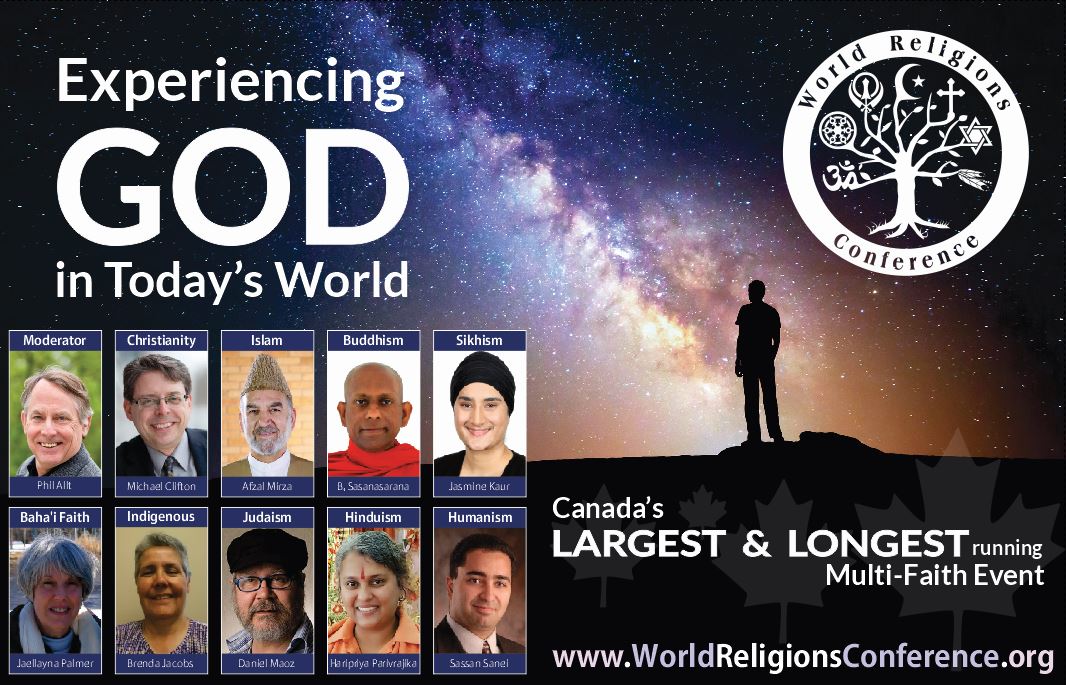 The conference has been organized in Canada since 1981. It has a long tradition for bringing together renowned scholars for a deep and thought-provoking exchange of ideas. The event aims to explore the teachings and practices of different religious and philosophical traditions, with the hope that such mutual exploration will encourage better understanding and promote harmonious co-existence among the members of the society. The theme selected for this year's conference is, "Experiencing God in Today's World".
Faith groups and religious organizations have responded with great interest in this year's theme of the conference. We hope to get numerous views and personal experiences of God from scholars of different faiths.
The event is organized by the Ahmadiyya Muslim Jama`at, and supported by contributions from the many faith communities that thrive in our country. WRC has enriched our society by promoting peace, understanding, and tolerance in Canada for 38 years and has become an enduring tradition in the region.
The event will be moderated by Phil Allt, a famous city councilor from Guelph, whereas eminent scholars representing Christianity, Islam, Buddhism, Sikhism, Bahai Faith, Indigenous spirituality, Judaism, Hinduism and Humanism (Atheists and Agnostics) will share their experiences of God and participate in a Q/A session from the audience. Faith groups will present recitations from their Holy Scriptures and set up displays.
Local, provincial and national leaders are expected to bring greetings of Canada's virtues of multi-culturalism, tolerance, acceptance of diverse faiths and humanity being above all at the opening ceremony of the conference.
Following is a brief description of the moderator and speakers lineup from different faith and philosophical traditions:
Moderator: Phil Allt (City of Guelph Councillor)
A multifarious and impartial event host, Phil is a city Councillor in Guelph, who has attended the Universities of Western Ontario, Guelph, McMaster and Toronto earning 3 degrees and engaging in doctoral studies as well.
Representing Christianity: Michael Clifton – Kitchener
Charming presenter, Michael is a lawyer, adjudicator, lay minister, community volunteer, punk rock singer, and concert producer. Has degrees in law and philosophy, served over 35 years in ministry and administration for The Church of Jesus Christ of Latter-day Saints.
Representing Islam: Imam Muhammad Afzal Mirza – Toronto
Prolific speaker and a learned scholar of Islam. Muhammad is the Imam of the Bai'tul Islam Toronto, one of the largest Mosques in Canada.Regularly hosts a live phone-in radio program explaining contemporary Islamic issues.
Representing Buddhism: Bhante Sasanasarana – Toronto
Engaging and influential teacher of Buddhism. Bhante is ordained in Sri Lanka in 2014 under the guidance of Ven. Kiribathgoda Ghanananda Thero in Theravada Buddhist tradition.. Currently, he is teaching Buddhism and meditation in Buddha meditation Center.
Representing Sikhism: Jasmine Kaur – Toronto
Brilliant speaker. Jasmine found her calling in the Sikh faith and was formally initiated in 2013. Graduated from McMaster, and now pursing her Doctors of Chiropractic in Toronto. Has been speaking at Sikh conferences, retreats, and gatherings in Canada, U.S. and England. 
Representing Bahai Faith: Jaellayna Palmer – Waterloo
Extensive essayist, Jaellayna is a newspaper columnist and publisher of book of personal essays "Personal Path, Practical Feet". Long time resident of the Waterloo region. Volunteered at the Baha'i World Centre in Haifa, Israel.
Representing Indigenous Spirituality: Brenda Jacobs – Hamilton
Phenomenal member of Mohawk Nation of the Bear Clan from the Haudenosaunee Six Nations of the Grand River Territory.  Currently, Cultural Resource Coordinator at the Hamilton Regional Indian Centre.
Representing Judaism: Dr. Daniel Maoz – Cambridge
Engaging speaker and Jewish scholar, Daniel is member of both Orthodox and Reform Jewish communities in Kitchener-Waterloo. Scholar-in- Residence at Waterloo Lutheran Seminary, Wilfrid Laurier University and a Research Associate for Concordia University, Montreal.
Representing Hinduism: Swami Haripriya Parivrajika – Kitchener
Disciple of H.H. Brahmrishi Shri Vishvatma Bawra Ji Maharaj, Haripriya completed M.A. in psychology from Holland. In India did spiritual practices, studied Sanskrit, Yoga, Upanishad and other scriptures and since 2001 a preacher at Brahmarishi Mission of Canada.
Reprenting Humanism: Sassan Sanei – Kitchener
Amazing Speaker, Sassan is a Humanist Officiant who performs marriage ceremonies and other life celebrations for people of all backgrounds. A graduate of the University of Waterloo, with degrees in philosophy and electrical engineering.
Admission for the general public to the event is free, which includes parking, refreshments and dinner, however seating is limited. The entire conference will also be streamed live at the conference website. Please visit www.worldreligionsconference.org to register for the event and to find more information.
For more information on this release or to schedule an interview please contact event coordinator, Nabeel Rana at 519-722-0841 or via email at This email address is being protected from spambots. You need JavaScript enabled to view it..
About World Religions Conference
The World Religions Conference (WRC), Canada's largest and longest running Multi-faith event that has been bringing different religious and ethnic communities together in a manner which breeds tolerance, peace, cooperation, and understanding. The event aims to explore the teachings and practices of different religious and philosophical traditions, with the hope that such mutual exploration will encourage better understanding and promote harmonious co-existence among the members of Canada's cultural mosaic.
The Conference continues to strive to shorten the gap between diverse communities, and to demonstrate that we can live together in the spirit of acceptance, harmony and compassion.
The objectives of the event is to promote interfaith respect, harmony, inclusiveness and diversity. It inculcates mutual understanding and respect between different faith traditions and philosophies of the world. It promotes respect, harmony and cohesion among all people.
About Ahmadiyya Muslim Jama`at Canada
The Ahmadiyya Muslim Jama`at (est. 1889) is the largest organized Muslim Community in the world that believes in the awaited Messiah; Hazrat Mirza Ghulam Ahmad, who founded the Community. He presented the vision of the World Religions Conference over 100 years ago as a means to promote peace in the world.
####
Contact Info
Nabeel Rana
Event Coordinator
38th World Religions Conference
1-877-INFO-WRC
Direct: 519-722-0841