For Immediate Release: Press and Media
My Faith and Canadian Values
37th World Religions Conference : Canada 150 Special Event
November 4, 2017 - Waterloo, Ontario
Scholars of 7 faiths and philosophies and nearly 800 delegates including officialdoms from academia, local, provincial and national governments as well as associates of various faith organizations are expected to flock to the Humanities Theatre, University of Waterloo for Canada's Largest Multi-Faith event – the 37th World Religions Conference (WRC), taking place on Saturday, November 4, 2017 from 10:30 am to 3:45 pm.
Canada is recognized globally for its values such as openness, diversity, compassion, equality and justice. As we celebrate Canada's 150th anniversary let us explore how Canadian values relate to the teachings of different faiths and philosophies. Scholars will deliberate on how their respective faith or philosophy can promote and shape values that Canada stands for.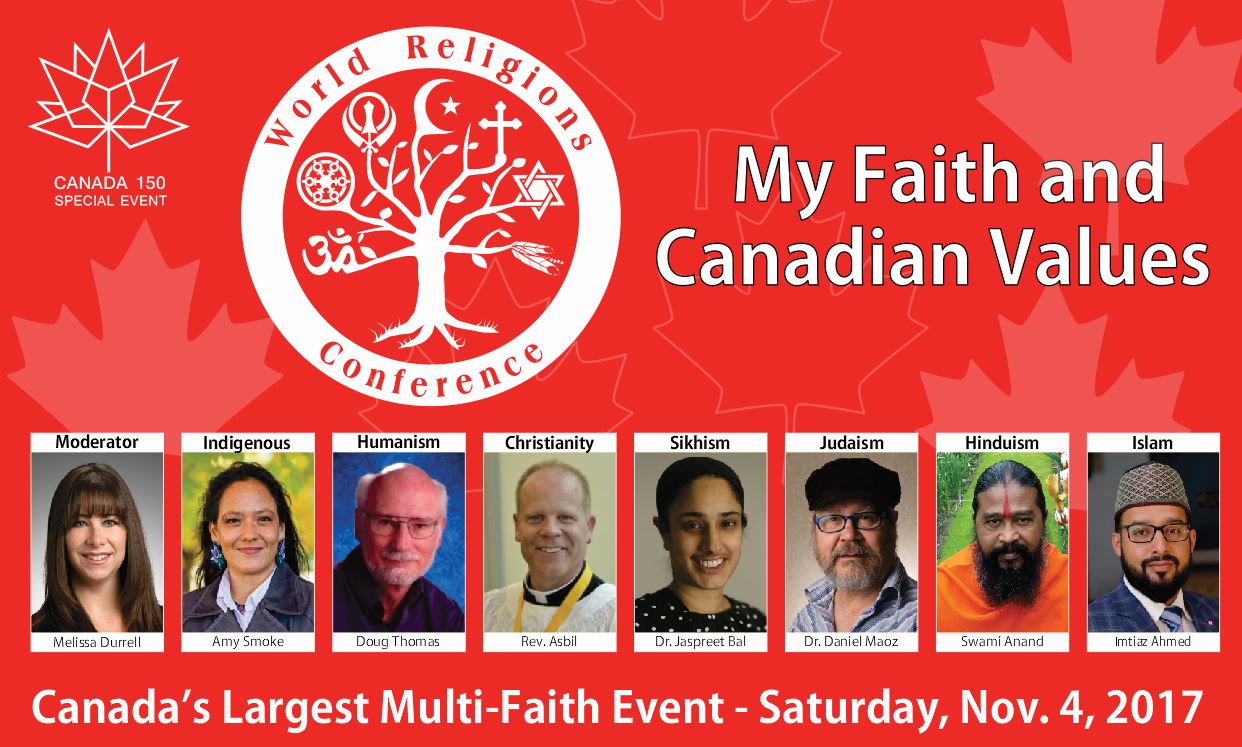 Event Coordinator Nabeel Rana is pleased to organize this year's conference, as it is a special event and a celebration of Canada 150. He hopes that such mutual exploration will encourage better understanding and promote a harmonious co-existence among the members of Canada's diverse religious and cultural mosaic.
Buoyed by contributions from the many faith communities that thrive in our country, WRC has enriched our society by promoting peace, understanding, and tolerance in Canada for 37 years and has become an enduring tradition in the region.
The event will be moderated by the City of Waterloo's Councillor Melissa Durrell, whereas eminent scholars representing Indigenous, Humanism (Atheists and Agnostics), Sikhism, Islam, Christianity, Judaism and Hinduism will speak at the conference. Following is a brief description of the moderator and speakers lineup from different faith and philosophical traditions:
Presided and Moderated by
Councillor Melissa Durrell – Waterloo
Councillor of the City of Waterloo and a brilliant event moderator. An award-winning TV anchor. Runs her own communications company. A strong believer in good communication, economic development and fiscal responsibility. 
Representing Indigenous Spirituality
Amy Smoke – Waterloo
Phenomenal Mohawk member of the Turtle clan from the Six Nations of The Grand River. A mother, daughter, mature student, public speaker and active First Nations member. Speaks of her own journey with substance abuse, homelessness, incarceration, and domestic violence.
Representing Humanism
Doug Thomas – Elmira
An extensive writer, Doug is a life-long agnostic and an active secular humanist. As President of The Society of Ontario Freethinkers, and of Secular Connexion Séculière, he advocates consistently for humanist rights and separation of church and state.
Representing Christianity
Reverend Andrew J. Asbil - Toronto
Awe-inspiring and a passionate story teller, Rev Asbil is an Ordained Anglican Priest serving as the incumbent of Church of the Redeemer in Toronto. Considerable experience as a keynote speaker and workshop leader for Church and community conferences.
Representing Sikh Faith
Dr. Jaspreet Kaur Bal - Toronto
Professor in the Child and Youth Care program at Humber College in Toronto. As a part of her practice she is a musician, a speaker at Sikh retreats, a community organizer and serves on the Board of Directors of the Sikh Feminist Research Institute and Kaurs United International.
Representing Judaism
Dr. Daniel Maoz - Cambridge
Engaging speaker and Jewish scholar. Daniel is member of both Orthodox and Reform Jewish communities in Kitchener-Waterloo. Professor of Hebrew Scriptures. Strong supporter of Interfaith dialogue. Presents his research in Jewish Studies.
Representing Hinduism
Swami Chidghan-anand – Orlando Florida USA
Highly accomplished yogi, Swami Chidgan-anand is affiliated with the International Brahm Rishi Mission. Spiritual Leader for Shri Shiv Dham Hindu Temple and Yoga Ashram, Orlando Florida. Extensively studied main Hindu scriptures and yoga philosophy.
Representing Islam
Imam Imtiaz Ahmed – Toronto
Engaging and influential speaker and writer. Imtiaz is the Imam of Bai'tul Islam, one of the largest Mosques in Canada. Served as a Missionary in Ghana, Africa and Ottawa, Canada. Named as the 25 most influential young Canadians by the Power and Influence Magazine.
The Ahmadiyya Muslim Jama`at of Canada is the Premier sponsor and organizer of the conference with an extensive network of partnership that includes the cities of Waterloo, Kitchener, Cambridge as well as over numerous other faith based and community organizations from the entire region, and several media outlets of the area.
Numerous faith Groups will setup displays and participate in religious scripture recitation presentations. Admission for the general public to the event is free, which includes parking, refreshments and lunch, however seating is limited. The entire conference will also be streamed live at the conference website. Please visit www.worldreligionsconference.org to register for the event and to find more information.
For more information on this release or to schedule an interview please contact Nabeel Rana at 519-722-0841 or via email at This email address is being protected from spambots. You need JavaScript enabled to view it..
----
About World Religions Conference
The World Religions Conference (WRC), Canada's largest Multi-faith event has been bringing different religious and ethnic communities together in a manner which breeds tolerance, peace, cooperation, and understanding. The event aims to explore the teachings and practices of different religious and philosophical traditions, with the hope that such mutual exploration will encourage better understanding and promote harmonious co-existence among the members of Canada's cultural mosaic.
The Conference continues to strive to shorten the gap between diverse communities, and to demonstrate that we can live together in the spirit of acceptance, harmony and compassion.
The objectives of the event is to promote interfaith respect, harmony, inclusiveness and diversity. It inculcates mutual understanding and respect between different faith traditions and philosophies of the world. It promotes respect, harmony and cohesion among all people.
About Ahmadiyya Muslim Jama`at Canada
The Ahmadiyya Muslim Jama`at (est. 1889) is the largest organized Muslim Community in the world that believes in the awaited Messiah; Hazrat Mirza Ghulam Ahmad, who founded the Community. He presented the vision of the World Religions Conference over 100 years ago as a means to promote peace in the world.
####
Contact Info
Nabeel Rana
Event Coordinator
37th World Religions Conference
1-877-INFO-WRC
Direct: 519-722-0841