Press Release (33rd WRC)
For Immediate Release: Press and Media
33rd World Religions Conference
Theme: Religious Freedom as Practised by Founders

Guelph, Ontario:
Scholars of 8 faiths and philosophies and over 800 delegates including members from academia, local, provincial and national governments as well as members of various faith organizations are expected to gather at the River Run Centre for Canada's Largest Multi-Faith event – the 33rd World Religions Conference (WRC), taking place on Sunday, October 6, 2013 from 10 am to 5 pm.
Buoyed by contributions from the many faith communities that thrive in our country, WRC has enriched our society by promoting peace, understanding, and tolerance in Canada for 33 years.
The event was held many years in Waterloo, and this year moves to the City of Guelph. With over 800 attendees last year -- including participants and representatives from academia, media, and leaders from all levels of government –WRC has become established as the largest multi-faith event of its type in Canada and an enduring tradition for this region.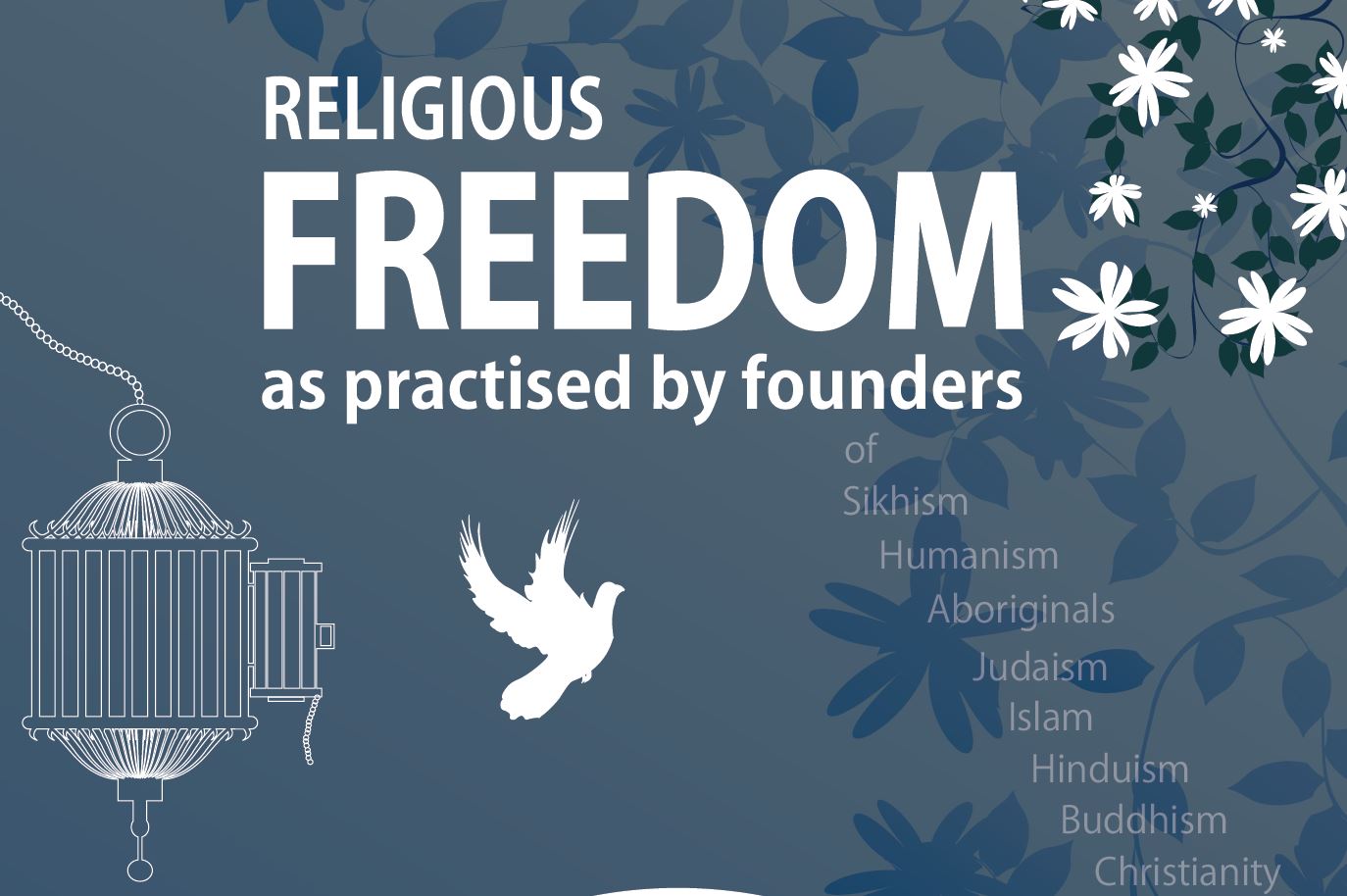 Each year the conference explores a new theme. This year's theme (Religious Freedom as Practised by Founders) is inspired by the recent inauguration of Canada's "Office of Religious Freedom", recognizing that freedom of religion (including the ability to worship, or not-worship, in peace and security) is a universal human right. The conference aims to explore the teachings and practices of the founders of different religious and philosophical traditions, with the hope that such mutual exploration will encourage better understanding and promote harmonious co-existence among the members of Canada's cultural mosaic.

Distinguished scholars representing Aboriginal spirituality, Hinduism, Buddhism, Judaism, Christianity, Islam, Sikhism and Humanism will present their views on the issue. Following is the lineup of scholars from different faiths:
Representing Sikhism: Balpreet Kaur – from Ohio, USA - Inspired Sikh activist and leader. President of the campus inter-faith movement, Better Together.
Representing Humanism (Atheists and Agnostics): Doug Thomas – from Elmira - A life-long Agnostic, President of The Society of Ontario Freethinkers, and Secular Connexion Séculaire.
Representing Aboriginal Spirituality: Rev. Kathryn Gorman-Lovelady – from Tiny, ON - A well-known Aboriginal Spiritual Teacher and Speaker. Kathryn is the chair of the north-central region committee of the Ontario Multifaith Council.
Representing Judaism: Rabbi Dow Marmur – from Toronto - A Jewish scholar and an advocate of interfaith relations, Rabbi Marmur is the President of Jewish Synagogue, Toronto and a regular columnist in the Toronto Star.
Representing Islam: Mubarak A. Nazir - from Toronto - A Prolific speaker. Mubarak is the Senior Vice President and Missionary Incharge of the Ahmadiyya Muslim Jama`at Canada.
Representing Hinduism: Swami Haripriya Parivrajika – from Kitchener - Disciple of H.H. Brahmrishi Shri Vishvatma Bawra Ji Maharaj.  A preacher at Brahmarishi Mission of Canada.
Representing Buddhism: Venerable Jue Qian – from Mississauga - Chinese Buddhist Nun and Dharma teacher. In-charge of the Waterloo Buddha's Light Centre.
Representing Christianity: Dr. Don Posterski – from Toronto - Renown presenter. Former professor in Christianity and Culture at McMaster University.

The Premier sponsor and organizer of the conference is the Ahmadiyya Muslim Jama`at of Canada. Partnership includes the cities of Guelph, Waterloo, Cambridge as well as over 20 other faith based and community organizations from the entire region, and several media outlets of the area.
Numerous faith Groups will setup displays and participate in religious and cultural poem and hymn presentations. The event will be moderated by Radio and TV host Matthew Kang of CBC.  Matthew is one of the reporters with the CBC's new bureau in Kitchener-Waterloo, where he covers news and current affairs for Waterloo Region and the Guelph area.
With free admission (including brunch, lunch and refreshments), and a chance to learn and meet others from a multitude of faith and philosophical communities, it is a small step to make this world a more peaceful world to live.
The entire conference will be streamed live at the conference website.
Please visit www.worldreligionsconference.org to register for the event and to find more information.
For more info contact
Nabeel A. Rana
Chief Planning and Coordinating Officer
33rd World Religions Conference
www.worldreligionsconference.org